---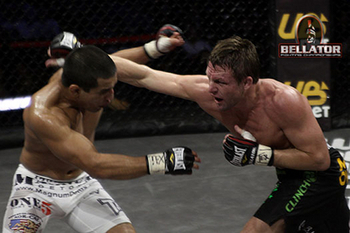 Joe Warren is an American Mixed Martial Arts fighter who fights for the BELLATOR promotion. Warren is the current BELLATOR Featherweight champion. Known for his relentless takedowns, Warren has one of the best shots in the weight class. Warren holds a record of 6-1 over the course of his young career.He has fought in DREAM and BELLATOR, fighting the likes of Kid Yamamoto, Joe Soto, Bibiano Fernandes, and Pitbull Freire. Not only is Warren an MMA fighter, but he's also a high level wrestler who won the 2007 World Cup, the 2006 Pan Ams, and he plans on competing in the 2012 Olympics.
Check out highlights after the jump:
Photo Courtesy of SBNation:
Strikeforce Challenger's card on tonight:
Lyle Beerbohm (155.7) -200 vs. Pat Healy (155.5) +165
Carlo Prater (160) +180 vs. Bryan Travers (159.7) -220
Ryan Couture (155.5) -500 vs. Lee Higgins (154.5) +340
Erik "Apple (170.7) -230 vs. Ryan Larson (170.2) +185
Nick Gonzalez (151.75) +255 vs. David Douglas (150) -320
Intimidation Announces T-Shirt Giveaway Contest at March 5 Strikeforce Event in Columbus
Intimidation Clothing to hand out vouchers for free t-shirts to fans at Strikeforce: Feijao vs. Henderson in Columbus, Ohio on March 5th
Roaming Shores, OH - Intimidation Clothing, one of the fastest-growing MMA apparel companies in the United States, is pleased to announce that they will be passing out vouchers for free t-shirts on March 5th, 2011 in Columbus, Ohio at Strikeforce: Feijao vs. Henderson.
Fans in attendance at the Strikeforce event at Nationwide Arena wearing Intimidation Clothing products are automatically entered to win. Intimidation will have representatives on hand passing out vouchers for a free t-shirt to as many as 20 lucky fans throughout the night.
"We want to see as many people at the Strikeforce event wearing Intimidation gear as possible," said Luke Jernigan, President & CEO of Intimidation Clothing, LLC. "This offers our already incredibly loyal fan base an opportunity to be rewarded for wearing their Intimidation brand products."
Check out the rest after the jump:
You voted this as your fight of the night and we agree.
Check out round 2 and the dramatic ending after the jump:
Photo courtesy of Bellator.com:
The Assassin will be facing former Bellator champion Lyman Good in what is guaranteed to a fire fight on Saturday, March 5th, 2011 at the Tachi Palace Casino & Resort in Lemoore, Ca. Lyman is a kickboxer by trade but tends to get wild during exchanges and that will not be wise against a explosive and dangerous fighter like Lozano.
Bellator describes the matchup:
"Leather will be flying in the Bellator 35 Main Event, as heavy-handed former Bellator World Welterweight Champion Lyman "Cyborg" Good will collide with fast-rising undefeated knockout artist Chris "The Assassin" Lozano. Both Good and Lozano are content to keep things standing which should provide a highly entertaining fight for Bellator fans"